<< Back to the contents of "About NHH"
Számítástechnika, September 2000
Judit Mallász:
Multimedia showroom
Modern, universal and commercially available
The National Host of Hungary Society will open a showroom in September with high-speed voice, data and image transmission capabilities in Munkácsy Mihály Street, Budapest. The potential forms of high-quality live picture connections will be shown at the demonstration site within the framework of different spectacular programs available free of charge. The technical background is based on the videoconferencing system of a Norwegian company, Tanberg, which and the two connected Phillips plasma screens were installed by Synergon.
The universal protocol converter was supplied by Alcatel, while the 34 Megabit/second active devices connecting the showroom with the outside world via a fibre optic cable were purchased from Nokia. The wire infrastructure is completed by wireless earth and satellite communications systems with a rotating parabolic antenna. The National Host of Hungary built a universal system based on the most advanced, commercially available technologies that can be offered safely to the Hungarian - mostly big - users, said Managing Director Zsolt Balassy.
Initially, six ISDN2 and 2 Mbs IP-based LAN connections were built and will be completed with an ATM interface in the future.
The Society expects interest mainly from the Government and the municipalities but is ready to welcome visitors from other areas as well, of course. They hope that telecom service providers and manufacturers will gradually recognise the importance of demonstrations and will start to use the showroom and place their own equipment.
The Society plans to use the demonstration room for distance teaching purposes as well. They want to work together with the Technical University of Budapest and the Széchenyi István College of Győr. The National Host of Hungary Society plans to provide content services as part of its distance teaching activities. They also plan to participate in other activities such as the compilation of teaching materials and Internet broadcasting (streaming media).
The studio in Munkácsy Mihály street could be used as a videoconferencing site where the members of the Telecommunication Conciliatory Forum can discuss current topics. Of course, this is subject to the availability of appropriate videoconferencing systems at the distant members' sites.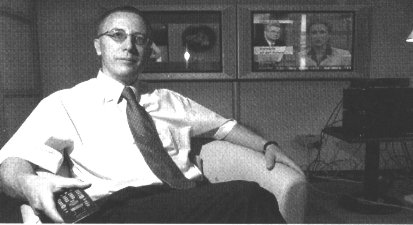 Managing Director Zsolt Balassy in the showroom
Copyright © MNH 1999
Last updated: 09-02-2001
<< Back to the contents of "About NHH"